Also referred to as Socorro this small collection of islands 200 miles south of Cabo, Mexico is a diving paradise for big fish action.  Coming up from 11,000′ to the surface in the open ocean it forms an oasis for the big life to come to.  Sharks, whale sharks, dolphins, whales and especially manta rays frequent these islands.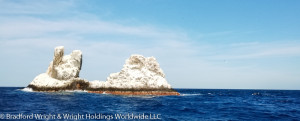 Reachable only by live aboard dive boats I choose the Nautilus Explorer for this trip.  An excellent operation with one of the very best crews I've ever come across, they provided a great experience and some wonderful diving.  They also supported my Titan CCR (rebreather) very well, and better than most.
The manta action at Socorro is non-stop with some special sites such as The Boiler being the best of all.  Mantas are in the shark family but are some of the youngest members.  We now believe them to be warm blooded and have very large brains.  I do have to say that in interacting with them they exhibit a large amount of intelligence and curiosity.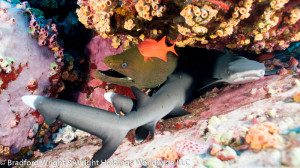 A lot of other life also calls these islands home and can be seen in abundance.  It's well worth the trip!
Please take the journey with me and enjoy some of the photos from my recent trip!  SEE MORE HERE
Remember that you can now order custom sized printed images, framed too if you'd like, all signed by the artist.  Learn more here.