Many people no longer remember the events of 1946 in the middle of the Pacific Ocean, at Bikini Atoll in the Marshall Islands. At the time it was big news, so big in fact that a fashion designer who created a new bathing suit for women named that new creation the bikini because the name was in the news so much.
What was going on was Operation Crossroads – the United States was going to show off it's nuclear power to the world. In this beautiful paradise they removed an entire people from their home, stripped the island and all the coral in the lagoon and brought in 97 ships. Then with press and dignitaries from around the world on observation ships outside the lagoon they dropped the Able bomb on the lagoon.  A 21 kiloton nuclear weapon. Almost a month later they set off Baker another 21 kiloton nuke underwater.

Over time 28 nuclear tests were done at Bikini. The island remains uninhabitable with it's people scattered to other atolls. However the radiation levels drop to a point where we could go to the island and dive the wrecks of Operation Crossroads but still can't eat anything that grows there. If you want to learn more I'd suggest starting here and reading "For the Good of Mankind" and "The Bomb".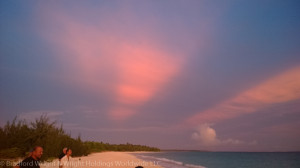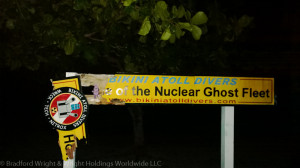 Those ships make Bikini Atoll one of the most amazing wreck diving locations in the world! Two battleships including the HIJMS Nagato (flagship of the Japanese fleet that attacked Pearl Harbor Dec 7th, 1941), the USS Saratoga aircraft carrier, subs, destroyers and more are easily accessible with gin clear visibility, no current and 86 F water. I've done this trip twice, once in 2005 when there was an operation on the island and now in 2014 with Pete Mesley and his Lust4Rust operation on a liveaboard dive boat. Checkout the images from this trip!!