Our grand adventure for 2014 started out simple enough, let's go see Machu Picchu and photograph it for our monument collection. But then as trips in the Wright household usually go it didn't end up that simple……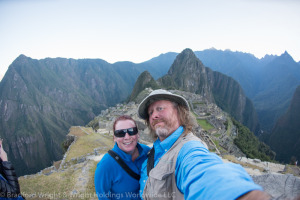 You see I didn't want to go see it the same way everyone else does. It just wouldn't be us. So we found Mountain Lodges of Peru and their horseback riding option. While a beautiful adventure it was anything but simple or easy. Read Red's blog for the scoop.
Of course that wasn't the end of it. Since we were spending that much to get there we needed to see more. So as usual we contacted my good friend Jim Harlan owner of Uncommon Adventures. Jim suggested and put together an awesome itinerary that would take us from ocean, to desert, to jungle, to cities & ruins in the mountains. Three and a half weeks of constant adventure. Travel with us with these images and videos.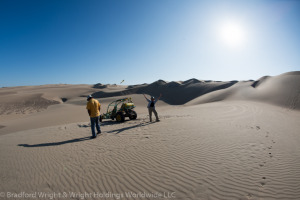 We started in the Nazca desert along the coast south of Lima. Trying local foods such as cuy and lechon al cilindro. In the desert are the famous Nazca lines. We took a brief overflight to see them. This involves hours of waiting for the weather to clear or not clear. We got lucky and at the last moment the sky cleared and we were off. See our desert and ocean photos here.
Next up was the jungle. I had no idea what to expect and oh man were we in for an adventure. It took two days from Cusco just to get to the lodge deep in the amazon. No power, some warm water and Red ended up with cockroaches in her hair waking her up. They call it eco-tourism I call it eco-terrorism. While we got to  see some cool things, such as the tapir and the macaws you see below, I'm not sure I would repeat. Read more about it and see the pictures on this page.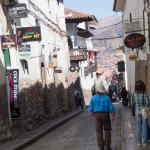 After the long journey back from the jungle to Cusco we got to explore and enjoy this beautiful city and the surrounding countryside and Inca ruins which are everywhere. We visited Ollantaytambo an Inca vestige that was a military, religious and agricultural center. Next stop was the agricultural terraces at Moray, built by the Incas in natural sinkholes on a limestone plateau overlooking the Urubamba valley. We also got to meet some wonderful people. Some from far away and some like this adorable little girl and her puppies right at their homes – see the video below. And then there were the turkeys. 🙂
See more of Cusco, the surrounding area and our adventures here.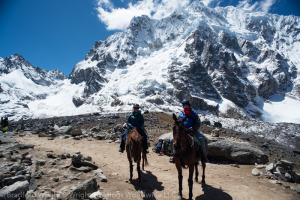 The last segment of our trip was the one that started the planning – a week on horseback over the Andes and to Machu Picchu. A difficult trek it was peaking out at over 4600m in altitude over 5 days of riding and a full day of hiking. We had the most gorgeous weather and amazing, beautiful scenery!
Seeing Machu Picchu, at first from 4 km away from another mountain top and then from inside at dawn was an impressive experience. It truly is an amazing place!  We had the opportunity to stay at the Belmond Sanctuary Hotel right at the ruins. This is a seriously impressive hotel with access unlike any other. It's not cheap but it's worth it and the customer service is stellar.
See a selection of our images from this last section of the trip here.
Overall an amazing trip, a fascinating country, great people, good food and fantastic scenery! Well worth the visit!