I was able to do a repeat of the CCR only trip diving Galapagos that I enjoyed in 2013. As always it was awesome! Jorge Mahauad, owner of Galapagos Rebreathers, and Andy Philips put on a great trip. We had tremendous hammerhead and whale shark action including a massive pregnant female on a 360 fly by during our safety stop! Checkout the video!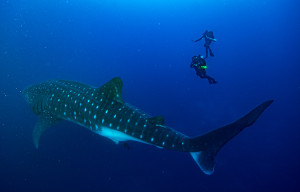 Here I am with her, I have the yellow bailout tank.
Checkout the compilation video of the trip here. Photos can we looked through here.
I also got to see my first mola mola that came in for a quick pass. Unfortunately I didn't have the camera for that dive as it was our first checkout dive!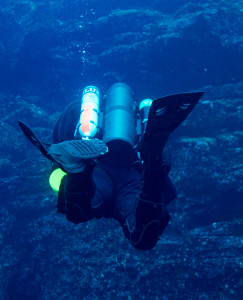 Galapagos truly is *the* big fish action location on the planet and diving it with my brand new SF2 CCR was a real treat. The unit is so easy to use and travel with and seems to be completely reliable – this was my first trip on it.