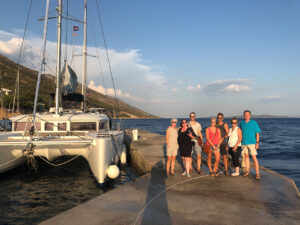 Our tradition of a group sailing adventure was supposed to be 2020 following our 2018 Bahamas' adventure and the 2016 BVI trip. Alas as the world knows, COVID. Everything down, entire countries closed and much suffering and death. After cocooning up at home from March of 2020 till August 2021 we were finally able to make a trip. All of us vaccinated and ready to travel, Croatia letting in vaccinated tourists only, it seemed like we could do this. As it turns out those few months were the only real window this year before the Delta variant shut everything down again. In retrospect we feel very lucky to have taken advantage of that window of opportunity.
Croatia is a beautiful welcoming place with great sailing, wonderful little bays, refreshing water and wonderful food. We used Navigare Yachting for this trip and I highly recommend them! They will be our go to charter operator from here on out. Unlike the problems we had in the Bahamas with our food order not being there and the poor maintenance on the boat Navigare was a breath of fresh air with their competence. The only hiccup was the delay in cleaning on our day of boarding which left Todd and I eating pizza at the dock while we waited with luggage while everyone else enjoyed a Micheline 4 Star restaurant that Diana had arranged. Welcome to travel 101!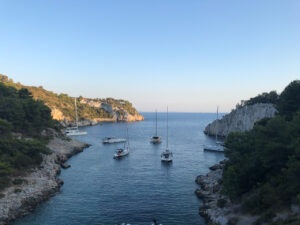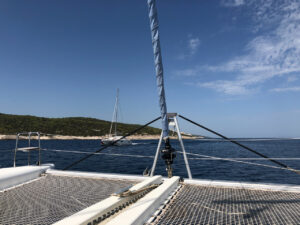 We spent a few days in Split before sailing. Very nice place to checkout for a few days.
The sailing was wonderful and our 23 yr old captain really knew his stuff and arranged for wonderful dinners at small family run restaurants with amazing food, all of it fresh and a lot of it right from the sea. This is one way they cook in these clay "bells". Comes out very good!

Overall I can't wait to go do it again and this time see more of Croatia.



Getting home was an adventure with testing and document checks, etc. Getting the original flights booked was a challenge too with British canceling our flights 3 times. We finally gave up and booked Delta which turned out to be much more predictable.
Anchor's away!